Doris Day
For more than 20 years, Cypress Inn has been jointly owned by legendary singer, actress and animal activist Doris Day and her business partner Dennis LeVett. Doris's deep devotion to animals helped put Cypress Inn on the map as the "pet friendliest" inn in the "pet friendliest" town in America!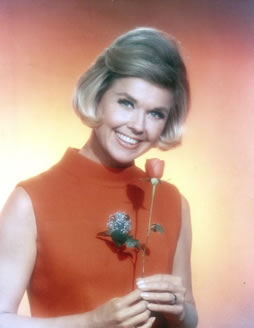 Doris, the quintessential all-American girl, continues to be revered by her fans, while the media still celebrate her as an actress and singer with a legendary Hollywood "girl next door" image. Of her 39 films, Calamity Jane, Love Me or Leave Me and Pillow Talk still remain popular favorites, and run frequently on cable television.
Along with her success on the big-screen, Day recorded a series of excellent albums between 1956 and 1968, which only expanded her popularity, and are as relevant today as they were when they were first released.
Born Doris Mary Ann von Kappelhoff on April 3, 1924, Doris was the youngest of three: she had two brothers, Richard, who died before she was born, and Paul who was a few years older. She was named after silent movie actress Doris Kenyon, whom her mother admired.
Growing up in the 1930s, Doris was drawn to music and dance, eventually forming a dance duo that performed locally until a car she was riding in was struck by a train, crushing her right leg, a severe injury that curtailed her ambition to become a professional dancer. While recovering, her mother encouraged her to take singing lessons from vocal coach Grace Raine. Doris credits Raine with impressing upon her the importance of delivering a lyric, and today Doris says that Raine had the greatest impact on her singing career.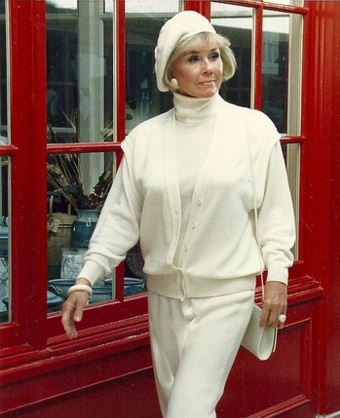 Among the many accolades showered on Doris over the years, her leading role in Pillow Talk garnered her a Golden Globe and a Best Actress Nomination and her signature song "Que Sera, Sera" won the Oscar for Best Song for Alfred Hitchcock's "The Man Who Knew Too Much" in 1956. Doris was voted top Box Office Female Star for four years straight during the early '60s and was she among the Top 10 for 10 years straight. Her record has never been matched. More recently, Doris received the Presidential Medal of Freedom by George W. Bush in 2004, and was awarded a Grammy for Lifetime Achievement in 2008.
Since leaving the Hollywood spotlight more than 30 years ago, Doris has turned her attention to a second career with the same enthusiasm and energy that put her at the top of the entertainment world: the welfare of animals.
She has worked tirelessly rescuing, healing and placing thousands of abused or neglected animals. Eventually, she started her own organization: Doris Day Pet Foundation which later became the Doris Day Animal Foundation (http://ddaf.org/dd/). She later initiated the Doris Day Animal League (www.ddal.org).
The Doris Day Animal League became a lobbying group on behalf of animal rights and is now a part of the Humane Society of the United States. Doris also had no idea that the Doris Day Animal Foundation would grow into one of the largest animal welfare organizations in the world. The Doris Day Animal Foundation continues to operate under her guidance.
Through a veterinarian friend, a beautiful Maltese named Duffy put behind him a life of abuse, neglect and found a home with Doris, who had recently lost her little white dog. Millions of dogs in the United States aren't as lucky as Duffy Day. Treating their special needs, whether they are medical, behavioral or social, requires a commitment of time and resources far surpassing what humane societies can currently afford. Many animals don't get the second chance at life they so richly deserve.
To spur change, Doris founded the Duffy Day Lifesaving Program, directed at turning our attention to saving senior animals in need medication for the rest of their lives. This will ensure many more happy endings like Duffy's. Secure donations to Doris's Foundations can be made at at http://ddaf.org.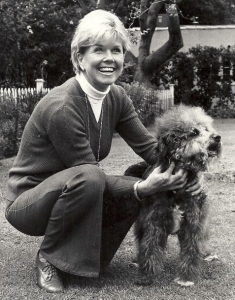 Today Doris enjoys a quiet life at home in the Carmel Valley, California. She prefers to stay out of the spotlight and instead keeps busy caring for her animals and her beautiful home and grounds, as well as reading and answering hundreds of pieces of fan mail she receives each month. She tends to the affairs of the Doris Day Animal Foundation and has projects ranging from the release of a new CD, a new website (www.dorisday.com) and a paper doll book, and she promises that new ventures are in the works.
Join Us for Doris Days' 96th Birthday Event
March 29, 30 & 31
Carmel-by-the-Sea, CA
50TH ANNIVERSARY FILM SCREENING OF "WITH SIX YOU GET EGGROLL"
LIVE PERFORMANCE / CELEBRITIES* / LIVE AUCTION / RAFFLE / BINGO / MORE!
Doris Day's 96th Birthday fundraising event, will be bigger and more fun than ever! All proceeds benefit the Doris Day Animal Foundation (DDAF), so we hope you'll join the celebration!
Thursday evening, March 29
CYPRESS INN LIVING ROOM – 8 pm to 10 pm
Kick off the weekend with a lively game of Doris Day-Themed Bingo," led by "With Six You Get Eggroll" and "The Doris Day Show" co-star, Jackie Joseph. Stop by for fun, prizes and perhaps a special "With Six You Get Eggroll" drink or two. Everyone is welcome!
(Please note that this is a fan-run event and not part of DDAF's Friday/Saturday Entertainment Package. All proceeds will benefit DDAF.)
Friday evening, March 30
CARMEL HIGH SCHOOL CENTER FOR THE PERFORMING ARTS
Showtime: 7:30 pm, Doors Open: 6:30 pm
Back by popular demand, award-winning singer, SCOTT DREIER, will headline a brand-new show of songs and stories, based on his recent album, "The Doris Day Project." Come early for a reception in the lobby, featuring photo ops, fan interviews and merchandise from DDAF's store!
Saturday evening, March 31
CARMEL HIGH SCHOOL CENTER FOR THE PERFORMING ARTS
Showtime: 7:00 pm, Doors Open: 6:00 pm
50th Anniversary Screening of "WITH SIX YOU GET EGGROLL," followed by a fun, behind-the-scenes celebrity Q&A with some of Doris' co-stars, including her movie "sons" and returning favorite, Jackie Joseph!* This feel-good, family comedy stars Doris Day and Brian Keith, with John Findlater, Jimmy Bracken, Richard Steele and Barbara Hershey as their kids. Rounding out the supporting cast is one of the best groups of comedy greats ever assembled, such as Jamie Farr, Jackie Joseph, George Carlin, Pat Carroll, Alice Ghostley and Vic Tayback. You also won't want to miss our raffle and live auction, featuring rare signed memorabilia and other fabulous items. Come early for more fun and photo ops at our lobby reception prior to the screening!
Entertainment Package
Seats are limited, and tickets are selling fast. To ensure your admission to all of the great Friday and Saturday activities, call 831-620-7455, to buy your $200 Friday/Saturday Entertainment package now.** (Thursday's "Doris Day Bingo" is open to everyone.) Don't miss out on all the fun!
Click here to watch our trailer and hear more about the festivities from the "McClure Boys" themselves!
Hotel Accommodations
The Cypress Inn and its sister properties will once again generously donate a portion of room proceeds to DDAF. Guests who stay a minimum of two nights at one of these properties and who purchase the Entertainment Package, will also receive a special welcome gift from Doris and DDAF, plus a raffle entry and one free Bingo game card (for those arriving Thursday, March 29 or prior).
To book your stay, please contact one of the hotels below, and be sure to tell them you are booking for the Doris Day Birthday Celebration:
Cypress Inn, 800-443-7443
Monte Verde Inn and Casa de Carmel, 800-328-7707
Vagabond's House Inn, 800-262-1262
Lamp Lighter Inn and Sunset Suites, 888-375-0770
Forest Lodge, 888-375-0770
We are expecting this special weekend to sell out once again. So book now to be a part of it all, and help us give Doris the best birthday gift of all–raising lots of money to help the precious four-leggers! We can't wait to see you in Carmel!
If you can't attend, you can still send Doris your birthday greetings and consider making a donation in her honor on DDAF's website!
* Doris Day is not expected to attend. Celebrity guests subject to availability.
** Entertainment package is non-refundable. Individual hotel cancellation policies apply.

"Probably the most famous dog-friendly hotel in the country, the Cypress Inn is co-owned by actress and animal activist Doris Day. And even without its pet pedigree, it's an appealing Mediterranean-style inn dating to 1929." – Sunset Magazine